Cycle Tour
We are developing new courses and cycle tours that you will be satisfied not only with cycling but also sceneries, foods, and activities.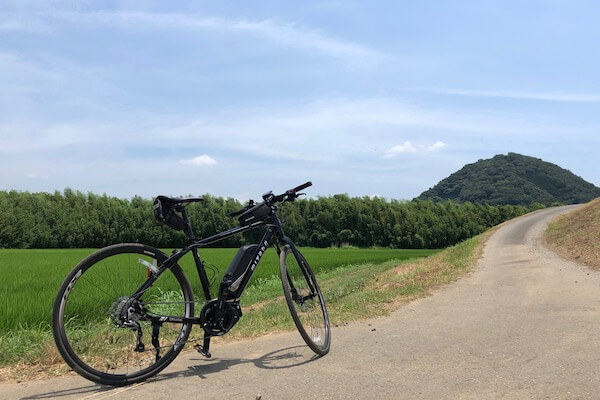 Kona Stay's Cycle Trip is a Bit Different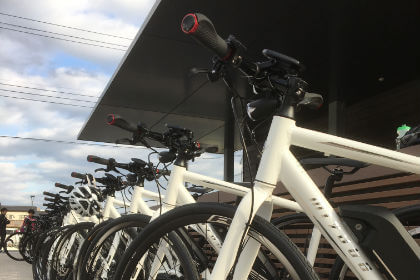 The Best Ride with the best eBike
Miyata "Cruise"
It is a sports bike with Shimano made electric assist, with 9 stages of gear, so you can drive easily on the uphill slope. It is also possible to travel a distance of up to 100 km or more, especially for enjoying the Izu area with many hills on a bicycle.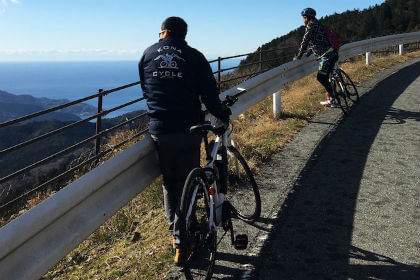 Tour Cast will Help the Travel on a Bicycle
When cycling around for the first time, you might be bothered about the route to the destination and tourist information. The so-called "tour casts" of Kona Stay who have connection with the local areas and has long experience of bicycle offer various kinds of tours according to the purpose. Please consult to the tour casts for enjoying new trips.
Rental Cycle
We can rent you the newest eBike and road bike without staying on Kona Stay.
Rental Hour:8:00 am ~ 8:00 pm
【Tax and rental helmet included 】
Applicable age Junior high school students or above (height 150 cm or more)
Elementary school students or customers under 150 cm should contact us.
| eBike | Up to 4 hours | 1 day | 2days | additional/day | additional/hour |
| --- | --- | --- | --- | --- | --- |
| Hotel guest | ¥1,800 | ¥2,500 | ¥4,300 | ¥2,000 | ¥550 |
| General customer | ¥3,600 | ¥5,000 | ¥8,600 | ¥4,000 | ¥1,100 |
eBike
Hotel guest
Up to 4 hours
¥1,800
1 day
¥2,500
2days
¥4,300
additional/day
¥2,000
additional/hour
¥550
General customer
Up to 4 hours
¥3,600
1 day
¥5,000
2days
¥8600
additional/day
¥4,000
additional/hour
¥1,100
| Cross Bike | Up to 4 hours | 1 day | 2days | additional/day | additional/hour |
| --- | --- | --- | --- | --- | --- |
| Hotel guest | ¥1,400 | ¥2,000 | ¥3,500 | ¥1,500 | ¥400 |
| General customer | ¥2,800 | ¥4,000 | ¥7,000 | ¥3,000 | ¥800 |
Cross Bike
Hotel guest
Up to 4 hours
¥1,400
1 day
¥2,000
2days
¥3,500
additional/day
¥1,500
additional/hour
¥400
General customer
Up to 4 hours
¥2,800
1 day
¥4,000
2days
¥7,000
additional/day
¥3,000
additional/hour
¥800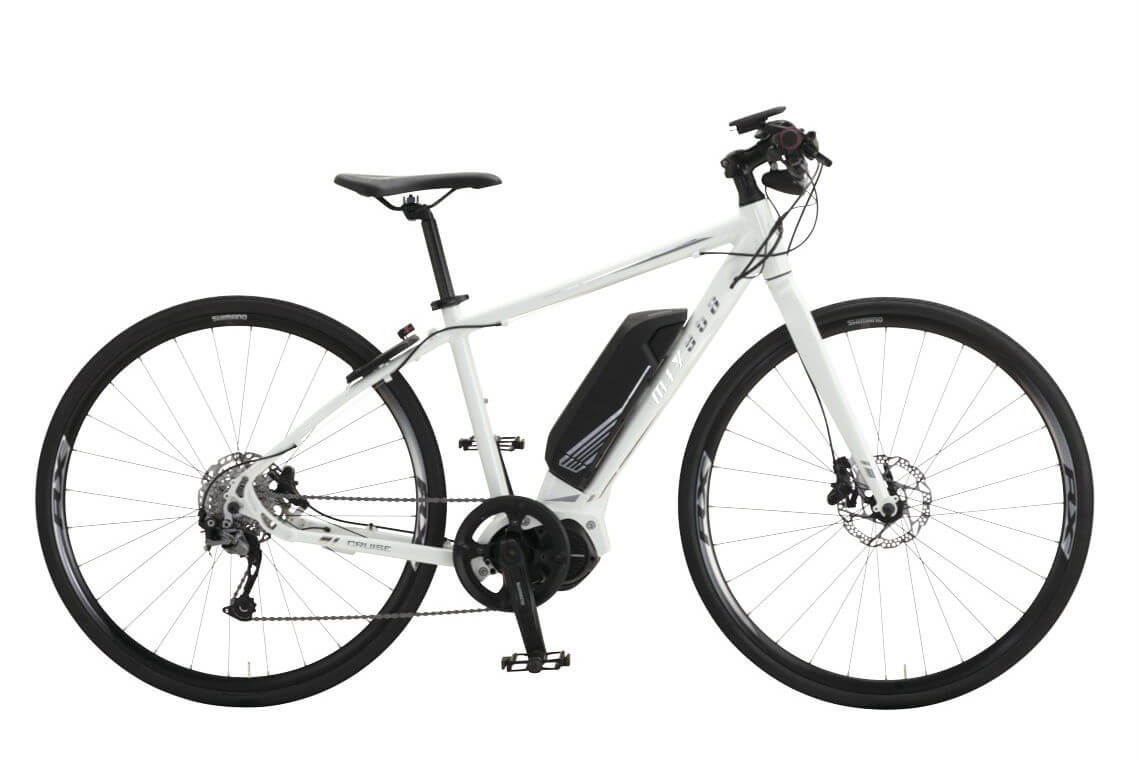 How to book and how to rent
①Booking
Book from the link button below.
Booking by Phone (055)948-0055
②Receive bikes
Come to the shop 30 min before your start. Check in and show your ID (Passport).
Pay the fee after your registration.
③Departure
The staff will explain how to ride a bicycle, insurance, how to respond when trouble, etc.
The staff will adjust the bicycle seat according to the customer.(Please be sure to visit us by yourself.)
Please observe the traffic law, and bicycle manner.
④Returning bikes
Please pay if extension fee have occurred.
About cancellation
Cancellation must be made to the store by 20:00 the previous day.
If one hour has passed from the reservation time without contact, we will cancel it.
The cancellation fee for the day will be charged 100% of the rental fee.
Cancellation due to bad weather, cancel charge does not occur.
For Beginners
Clothing
Even without cycle wear, you can enjoy enough with sportswear etc. Points are "windproof" and "ankle". Especially from autumn to spring please wear wind-breakable materials such as wind breakers.Since it is unlikely to get involved in the chain, we recommend wearing thin hem pants.In the winter, please wear heat-tight tights, etc. Please keep it warm.Branches beside the road may hit the face, so it is also necessary to protect your eyes with sunglasses.
Be sure to have athletic shoes ready. You can not use it in pumps, heels, boots, etc.
Course Advice
The tour cast will advise you about course information and how to enjoy this area. Even cycle beginners can ride up to about 50 km if they use eBikes.
Support for Failures
Will Respond Firmly Even When Puncture or Breakdown.
In the unlikely event of a puncture or vehicle failure, our staff will bring a substitute bicycle by a support car.
Vending Machine of Bicycle Parts
From Repair Item to Convenience Goods. We have installed a vending machine of bicycle consume parts corroborated by bicycle specialty stores at the hotel lobby.
Cycle Storage Service
My Bike Ready at Any Time
Cycle Storage is a service that you can deposit your bicycle at the Kona Base for a month or longer. You can stop by the Kona Stay Izu-Nagaoka and pick up your bicycle very easily. Please enjoy the casual bicycle life that you can ride when you think.
Bicycle courier service
Please have your bicycle packed well at the customer's responsibility in the wheel box and bring it to the front desk. (Packing size is less than 3 side 280 cm, within 30 kg.)A new wheel box is prepared at the front desk (2700 yen).Only bags with cushions can be used according to the regulations of the shipping company.
We will arrange delivery to your home or to the next accommodation your baggage as well according to your request. (A separate fare is required)
Cycle Pit
It Is a Space Dedicated to Guests
We are preparing a cycle pit exclusively for customers that can be used for self-service for bicycle maintenance and cleaning.
Cycle Cleaning Service
Cleaned Bicycle for Your Comfortable Ride
We clean your bicycle cleanly with a special chemical. We will provide various cleaning services according to your request.
Cycle Trailer
If You See It Waving Your Hand
We have developed a special transport trailer for bicycles. We can support up to 8 people's tour in and out of Izu area.