P.
Private Room
We renovated Japanese style room into a cozy and more privacy oriented room. We selected very carefully the best furniture that you can stay comfortably.
Guest Room
Capacity

1-4 Persons

Room Size

35〜45㎡

Bed Size

Width 125cm, Length 200cm
Standard
Standard with Shower Booth
Standard Wide with Shower Booth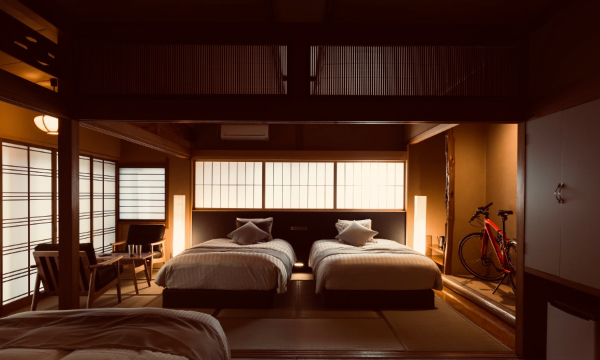 Independent Cottage
Capacity

2-6 Persons

Room Size

50㎡
This room's bedding is Japanese Futon style
In-room Facilities (Private Room)
Air Conditioner, Serta Brand Bed, Duvet, Cushion, Sofa, Table, TV, Toilet with Hot Shower, Refrigerator, Pot, Coffee set, Bicycle stand, Safe, Multifunction Smartphone (internet connection, extension telephone)
In-room Amenities (Private Room)
Toothbrush, Towel, Comb, Cotton Swab, Razor, Hand Soap, Nightwear
(With Shower Booth: Shampoo, Rinse, Body Soap)
D.
Dormitory
The dormitory type have 12 beds in each room. Ideal for the single and economical stay. Because it is bunk bed with walls covered in three directions, you can have relatively private space. The dormitory is three types as male only, female only, and male/female mix.
Cabin Size

Width 100cm, Length 205cm, Height 90cm
※The Bed is a bunk bed
Dormitory
Dormitory for women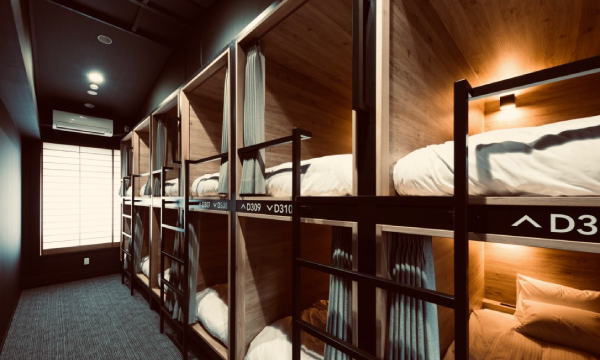 House Rules
Check-in

3PM-10PM

Check-out

10AM

Wifi

Free

Usage limit

Children under elementary school age can not use single in dormitory.
All rooms are non-smoking (smoking space installed in the lobby side courtyard ).
Accommodation with pets is not permitted.
There is no elevator to the 2nd floor. A barrier-free toilet is available on the first floor.

Extra bed

An extra bed can be added in each Standard room.
For use by more than 4 people, we offer a futon set.
Extra beds in dormitory can not be used.

Rental item

Iron, Iceon, Water pillow, Blanket, Can opener, Bottle opener, Wine opener, Wine glass, Desk lamp stand, Bicycle stand, Sewing set, Various pillows, Nail clipper, Thermometer

Breakfast service

7 am – 9:45 am (entrance)
in the 2nd floor Common Dining
Western style buffet (free)

Other service

Massage, luggage storage service, fax & copy service, courier service reception

Parking

10 cars capacity
(First come first serverd)
F.
Facilities & Services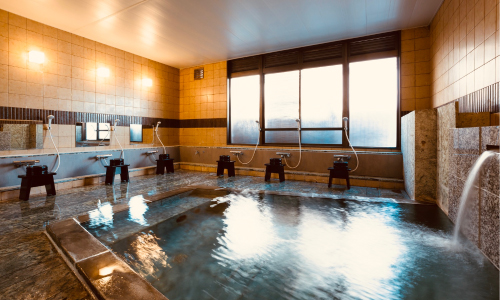 Hot Spring
Fatigue Restoration and
Beautiful Skin Effect
The Kona hot spring is an alkaline simple spring that is colorless and odorless. It is effective for muscle fatigue after cycling, and smooth your skin. By the way the etymology of place name "Kona" is said to be hot water of Ainu language.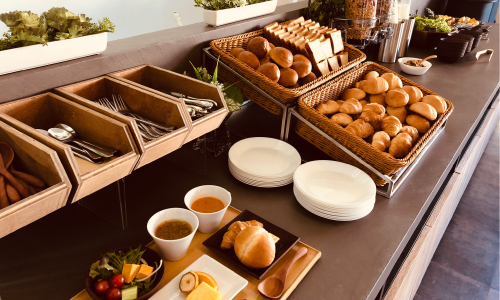 Breakfast
Energize Your Day
with Breakfast
The breakfast served at the Common Dining is a Western-style buffet by baked breads, vegetable salad and soups such as original clam chowder. Offered from 7 am to 10 am.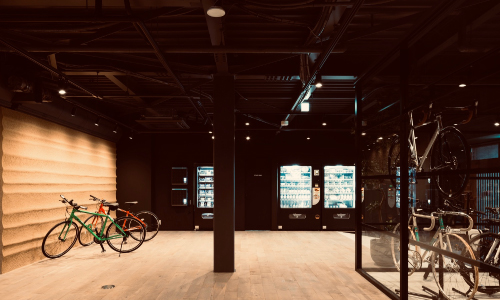 Kona's Bar & Open Counter
A Breath Here at
the End of the Day
Set up vending machines that sell local craft beer and snacks in the hotel lobby. There are 12 easy-to-use counter seats next to the front desk, you can use it as a bar counter, a business desk, and versatile. We are also preparing local special menu by orders.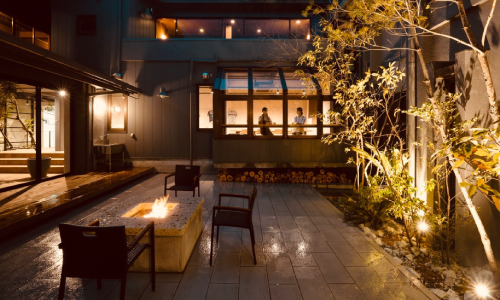 BBQ Terrace
Space You can be Healed
by Bonfire
On the terrace beside the lobby, we set up a bonfire table that can have a barbecue.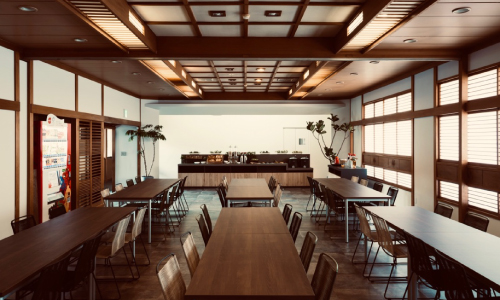 Common Dining &
Shared Kitchen
Guesthouse-like
Shared Space
It is the space you can use freely except the breakfast time. Because you can use a shared kitchen and a refrigerator, it is very convenient for socializing among long-term guests.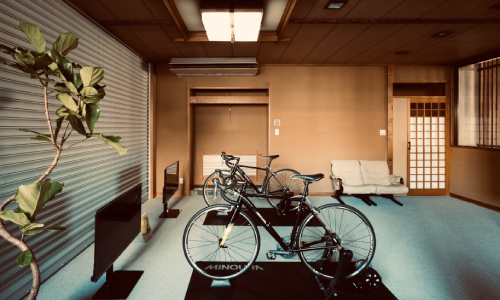 Training Space
Maintenance for the Body
Towards Tomorrow
Kona's Fitness offers simple and basic training tools and bicycle training software ZWIFT.
Coin Laundry
For the Guests to
Stay Long or with Children
It can be used in self-style. To customers who participated in sports and events, customers who want to lighten baggage as much as possible, to customers with children.
FAQ
Is Kona Stay typical Ryokan inn or Western style hotel?
Kona Stay has completely refurbished the building which was originally a ryokn inn. Guest room has tatami floor, Japanese atmosphere remaining, but facilities of hotel specification such as bed and sofa are in place. We do not have Ryokan-specific customer service such as Nakai.
What is the meal service?
Only breakfast is offered at Kona Stay. We will introduce nearby eateries at dinner time. Although we need a reservation, you can also book kaiseki cuisine at neighboring Ryokan inn. Please contact us first.
Please tell me about breakfast in detail.
We offer continental breakfast from 7 am to 9:45 am. Freshly baked bread, fresh vegetable salad, original clam chowder etc are offered.
Do you have a shared kitchen?
Yes. We have a shared kitchen that guests can use freely from 11 am to midnight in the common dining on the second floor. If you are shopping at neighboring supermarkets and preparing meals by yourself it is also possible to spend your budget to other activities accordingly. Refrigerators and kitchen supplies are available for rent. Also, on the first floor BBQ terrace, you can enjoy a barbecue as there is a special grill.
Are there Wi-Fi service?
Yes. Because the whole building is Wi-Fi compatible, high-speed internet can be used anywhere. Please confirm the password at the front desk.
Can I use Kona Stay for business conference and training camp?
Yes, of course it is greatly appreciated. If you are a student's camp, you can stay at a very reasonable price with a dormitory. In addition, if you are a social worker, you can use a private room for 2 to 3 people, and you can also hold a meeting, a workshop etc at the common dining.
Can I charter a hot spring?
No. There is no hot spring on charter.
Is there a bar and lounge?
There is no general bar, but there is a vending machine bar called Kona's Bar. Local craft beer, local sake, wine etc. are prepared. Please enjoy a cup in the lounge next to the lobby while having a meeting with the staffs about tomorrow's cycle tour.